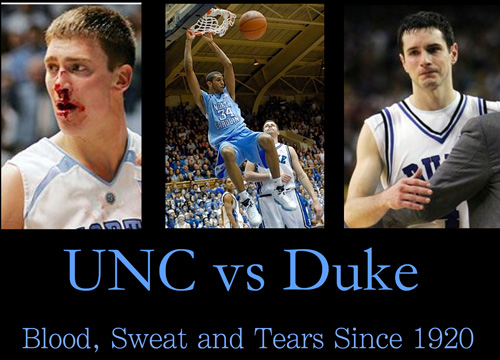 I was born in North Carolina. After a brief stint in Atlanta during my elementary school years, we moved to the Triangle and I grew up here. And when you're a Tar Heel, born and bred, you have three choices: State, Carolina, or Duke. Which ACC team will you pull for?
I say "choice," although in many families, free will doesn't have a say. My grandfather practiced medicine and taught at Duke. My cousin (twice removed) was Duke's team physician for almost thirty years. I have every reason to root for Duke. I did it all through my childhood.
When I was shuffled off to higher education, I attended neither of the three big basketball schools and subsequently lost interest in collegiate sports. Then I got married and we made a baby. And when that baby got really sick right after he was born, he went to UNC Hospital, where they saved his life.
So now, almost five years later, I feel torn. I love me some college hoops, especially at the height of March Madness, and I will always root for an ACC team over any othcer conference. But I have a hard time when they play one another. The other night, the Blue Devils came back from a 16 point deficit to beat Carolina. I didn't watch the game on television, but I listened to the second half on internet radio. I was riveted. And I didn't know who I was pulling for. When Duke won, I felt elated! But I felt bad for the Tar Heels.
I'm starting to wonder if I should just decide, once and for all, where my loyalties lie. Maybe I don't care enough. If I went to either school, it'd be easy. Should I roll a die and just pick?